Due to current measures to fight COVID-19, the ULB is adapting to the situation and is offering a online information session on May 20th, 2020 from 5:00 p.m. to 8:00 p.m.
The IEE-ULB will participate in online info session, by presenting its teaching offering in European studies, as well as the programmes with the IEE label organised by the partner faculties: Philosophy and Social Sciences, Law and Criminology and the Solvay Brussels School of Economics and Management.
A special live conference "European careers: challenges and debates" will take place at 6:30 p.m. Register today! 
The programmes in European studies
More information will be available about our Specialised Master in EU Interdisciplinary Studies, a programme in English that stands out for its interdisciplinary approach. This specialised Master aims to reflect on the political, economic, social and legal challenges of European integration.
A clear focus on career development is one of the main features of this programme. An innovative seminar is organised to offer students the necessary skills to develop a professional project and a career plan.
Conceived for professionals, The Executive Master in European Union Studies (MEUS) is a certificate with a staggered timetable during the evenings or on Saturdays, also organised by our Institute.
The programme includes a common set of core of courses that cover the fundamental aspects of the political, economic and legal integration, a "professionalisation" module, a "final dissertation" module and specialised optional modules. Some courses are available online.
You can also discover during the online info session on May 20th, the programmes in European studies organised by our partner faculties with the label of the Institute of European Studies: the Master in European Studies, the Master in Economics – Business Economics, The Master in Economics – Economic Analysis and European Policy and the Specialised Master in European Law.
 During this online info session you will have the opportunity to:
ask all your questions directly about ULB studies and services: registrations, grants, accommodation, etc.,
attend live conferences specifically designed for the occasion,
download our brochures,
visit our campuses and our accommodation.
All this without having to leave your home!
European studies in one place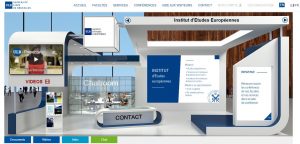 Find all the information on European studies at the ULB, download our brochures, chat with members of our team and our student associations by clicking on the "chatroom". We look forward to meeting you!
Our alumni & career opportunities in European studies
Our virtual stand will also allow you to listen to the testimonies of our alumni, learn about their experiences and refine your choice of studies.
Don't forget to register for the Online Info Session. We look forward to seeing you!