Community life, clubs and societies at IEE-ULB
Community life at IEE-ULB is embodied by Eyes on Europe and SAIES (Students Association of the Institute for European Studies). Of course, our students also take part in activities at ULB.
---
Whether about citizen engagement, community exchanges, or issues related to European current affairs, IEE-ULB students create, manage and run various clubs and societies… 
Student clubs and societies at IEE-ULB
Two student societies bring IEE-ULB to life for students: Eyes On Europe and SAIES.
Eyes on Europe
Eyes on Europe is the not-for-profit organisation for students at IEE-ULB. The society organises conferences and debates on  campus.
Eyes on Europe publishes a semi-annual, trilingual, free magazine. Created in 2004 by IEE-ULB students, it focuses on the coverage of European issues and the challenges of integration. It is distributed at the University and to European institutions, think-tanks and interest groups.
Written by the students with contributions from public figures, political groups, think-tanks and researchers, such as Viviane Reding and Jean Lambert.
Find Eyes on Europe on their website and on Facebook

SAIES
The Students' Association of the Institute for European Studies is the students' association for students in European studies at ULB.
Created in 2015 by IEE-ULB students, it is a space for reflection on the European Union.
It aims at representing the students from the IEE-ULB and to ensure the cohesion among students across all master's programs.
SAIES organizes various sociocultural events (visits, conferences, bals etc.)
Find all their news on their Facebook, Twitter and Instagram pages.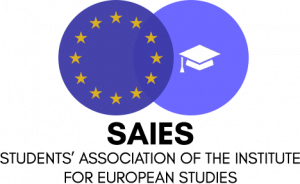 Cultural activities at IEE-ULB
Enhancing your knowledge, but also having fun, are part of life at IEE-ULB. Find out more:
Would you like to take part in IEE-ULB activities or get involved in clubs and societies? Find the latest news about our students on our Facebook page
Student clubs and societies at the ULB
IEE-ULB students are invited to join student associations at the ULB:
As well as the different portals and news media: Actualités ULB, Radio Campus and Esprit Libre.
Find a list of student societies on the ULB website!