Students in Ukraine and across the world created the exhibition "Unissued diplomas" to remind the world about the ongoing war and the price Ukrainians pay daily in their fight for freedom. "Unissued Diplomas" honors the memory of Ukrainian students who will never graduate because their lives were taken by the Russian invasion.  
 
The "Unissued Diplomas" exhibition uncovers the stories of 36 Ukrainian students killed in the war.  It has been held in 45+ universities worldwide since February 24, which marks the anniversary of the day all Ukraine woke up from explosions. 
The Institut d'études européennes and the Marie Skłodowska-Curie P.h.D School GEM-DIAMOND has supported the initiative of ULB students Lev Zinchenko and Sofia Nazarenko to present on campus the exhibition. They have had the support of ULB professor Oksana Kozlova (RESU Solidar – Comité belge du Réseau européen de solidarité Ukraine). The expo is part of the cycle "Paroles ménacées". It can be visited during office hours at 39 Avenue Franklin Roosevelt.  
Hall of Diplomas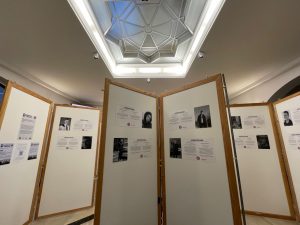 They used to spend their days in study halls. They had favorite classes and those they dreaded weekly. And how scary it was for them to even think of failing a midterm. 
But after February 24, everything changed for Ukrainian students. Classrooms turned into bomb shelters and battlefields. Fears changed its course and bravery took control. 
Now, diplomas of some will never be issued. This is a way to honor those lost to war.  
The Team Behind the Exhibit
Girls and boys, students, and graduates, in Ukraine and abroad — all 50 quite different. "But we united in our goal to commemorate the lost lives of Ukrainian students and remind the world that the full-scale war still goes on. And it takes innocent lives daily, student or not". 
 Co-organizer of the "Unissued Diplomas" project is SUSK — Ukrainian Canadian Students' Union. SUSK is a student organization which advocates concerns relevant to Ukrainian Canadian students.