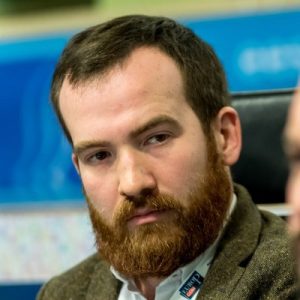 Tom Moylan is a political communication specialist, currently working on corporate communication for the office of the Director-General for Communication in the European Commission. He likes to work with universities, academics and students to blend real professional experience and deep research, helping them feed each other. You can follow him on Twitter or connect on LinkedIn.
---
A few things in life seem simple until you have to do them. We are learning about some of those things in the current crisis; for example, cutting your own hair, starting a home exercise regime – or crisis communication. Last month, the Institute for European Studies of the Université Libre de Bruxelles and I ran an experimental online brainstorm on how to communicate in a crisis.
The idea behind this exercise was to introduce some core concepts in crisis communication. Then, participants brainstormed around different aspects of the European Commission's communication response to the coronavirus crisis. The conclusions I have shared with my colleagues in DG Communication.
In this blogpost, I go through the methods used to highlight crisis communication in action and the outcomes of our brainstorm – I hope you find them useful!
Part 1: The Death of Princess Diana and Principles in Crisis Communication
Crisis communication is a special wing of communications that comes into place when an unexpected outside event or force requires an organisation and/or individual to react. To highlight how this can happen in different ways, I used the example of a very different kind of crisis – the tragic death of Princess Diana in a car crash in 1997.
After giving the participants some context to the crisis, we reviewed the statements put out by three important actors – the Prime Minister, the Queen and the Opposition leader. They then evaluated each for strengths and weaknesses, identifying principles of crisis communication based on those examples.
Statement of Tony Blair: Prime Minister of UK and leader of Labour Party
Reactions of participants:
Messages were positive – centring on solidarity, mourning and compassion. The language was inclusive and memorable – coined the phrase "The People's Princess".
Delivery was key – not only in emotionality and perceived spontaneity, but also measured in pacing and tone. He focused his eyes beyond the camera, giving an impression of personal connection.
Imagery was powerful – long-shot entry, setting of a parochial church in his own constituency, rain and umbrellas, walk-by shot.
Blair's personal connection with the Princess allowed him to convey a sense of empathy and personal connection.
The way that the statement was produced and delivered – drafted only by Blair and his director of communication Alastair Campbell, and delivered personally – likely affected the quality of the content.
Statement of Queen Elizabeth
Reactions of participants:
Delivery is robotic – clearly reading from an autocue. Protocol dictates that she must speak in a less emotional way and consider tradition in her public representation.
Messages referenced family, children and being a grandmother to make a personal connection.
Imagery of background is less powerful – impersonal crowd moving around in the background.
After immense public pressure to respond, she broke with tradition in order to deliver this message (usually the Queen only speaks in a pre-recorded message at Christmas). That is important and symbolic, but only if you understand the tradition to begin with.
Her role here was very important – balancing the context of protocol, her turbulent relationship with Princess Diana and the expectation of a response from the public very much influenced how this was produced and perceived.
Statement of William Hague: Leader of the opposition Conservative Party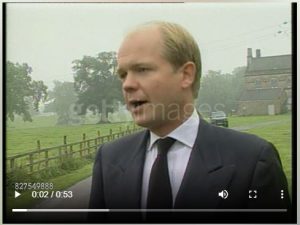 Reactions of participants:
Very formulaic in the composition and delivery. Perhaps Hague lacked the personal connection with Princess Diana to make it authentically empathetic.
Delivered later in the day – speculation that this was likely written by committee.
Similar background imagery to Blair in the church, but the static shot made it less powerful. Body language less personable. Part of his face was hidden by the shot, making him look less open.
Conclusions overall:
1. Timing matters
Getting out early and strongly is crucial. As demonstrated by the Queen's example, remaining silent is not an option.
2. Roles and expectations matter
One of the most important things in a crisis is understanding your role – what it means for your organisation, what people expect you to do, what tone you are expected to strike, etc.
3. Production systems matter
Centralisation of messages and production is important in a crisis. This results in clearer and faster messaging, which is vital in a crisis.
4. Tradition (and breaking with it) matters
Staying or breaking with tradition can be powerful – you must balance the tradition against your role and what the public expects of you.
5. Symbols and imagery matter
Setting, body language, angles, shot length, clothing – they all played into how the response to the crisis was perceived. People become visual and visceral in a crisis.
Part 2: European Commission CORONA Communication Brainstorm
Now that we were primed to understand what is important in a crisis, we were ready to move on to what made this crisis special. Quickly, the group identified a few key elements that made this crisis different to others:
sense of solidarity and common experience
immediate and all-encompassing impact on daily life
aspect of genuine personal fear and threat
immediacy of situation – and no end date in sight
non-political nature of the crisis, but with political overspill
playing out and collectively watched on social media in real time
Now we had the context of crisis communications principles at large and reflected on the corona crisis itself, we went on to the Commission's communication response to corona specifically. We reviewed the role of the Commission (focusing on the EU angle, its competences and responsibilities, etc.), where we focus our communication effort (press, website, social media, local offices and disinformation) and the type of messages we are putting out.
Conclusions overall:
By the end, the group's views could be boiled down into 10 recommendations. Half of them are strategic and dealing with the long-term view. The other half are tactical and  make practical recommendations.
Strategy:
Clarify the Commission's role in the crisis – and investigate more deeply what people expect the EU to do as an organisation.
Positive, offensive communications – look for ways that this crisis illustrates the EU benefit and wave a flag over it.
Drawing parallels as much as possible with how coronavirus is managed in their communities can help people make personal connection with European angle.
Commission should take up an empathetic and reassuring role – highlighting where possible how life is going on and where the prospects for returning to "normal" are.
There must be a clear "post-corona" communication strategy – to revert to business as usual without adjustment would make the institution look out of touch.
Dopo solo un mese, la scorta europea #rescEU di materiale sanitario e' una realtà. Oggi una consegna di mascherine all'Italia????????. Più materiale, come ventilatori, in arrivo nei prossimi giorni per sostenere altri stati membri. Insieme come europei supereremo #COVID19 #coronavirus pic.twitter.com/O8OFmGeQCB

— Janez Lenarčič (@JanezLenarcic) April 25, 2020
Tactics:
Experts are back in fashion and the Commission is full of them – frontload expert opinions from inside the Commission, etc.
Regularly refer back to content that worked from previous pandemic communication and parallel organisations to be inspired and see what is working.
Explore the full range of multilingual options on social media (close captioning, auto-translation, etc.) and expand to new platforms, like Reddit (for its strong multiplier effect).
Put work into composition of picture and video – get symbols and imagery right. Make sure the photographers understand the scope of the message and emotion they have to capture.
Clarity in statements – staying silent is not an option and the last thing that people want from their institutions now is to perceive indecision.
Acknowledgements
Many thanks to guest expert brainstormers Anamaria Dutceac Segesten, Laura May Skillen, Ian McCafferty and Benjamin Ray for their valuable contributions.
Also special thanks to:
Kevin Toolis, who provided the inspiration for the selection of the case study.
Maria Isabel Soldevila for arranging the session and providing technical assistance.
Camille Bullot for opening the session with an example of a crisis management plan she worked on.
All of the participants who contributed questions and comments.
Interested in EU communication and the ins and out of the EU? Check our programmes!