This academic year marks the beginning of the third IEE Alumni co-presidency, a form of governance that is allowing a group of graduates in EU Studies to organise and participate in IEE events, including mentoring sessions, professional visits and even a BBQ in the Institute's premises!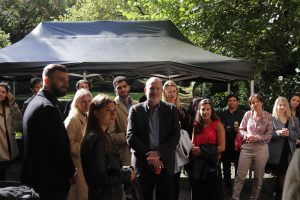 After two successful mandates of IEE alumni co-presidents, a third group of committed former students has taken over the network to ignite it with their energy and creativity. The passing of the torch between the second co-presidency and the new team took place last October 1st, in the context of the first ULB-wide Alumni Day. An informal BBQ, open to alumni and their families, was the occasion for them to come back to the Solbosch Campus, on the celebration of its centennial, and to share with family and friends in a fun atmosphere. Some 50 IEE former students joined the garden party.
For IEE authorities, it was an opportunity to thank Milena Albu, Ricardo Almeida, Giorgia Bozzini, Matteo Candelari, Matteo Guidi and Jessica Simoes for their work during the second rotating co-presidency (March 2022 – August 2022) and to welcome the new group that will continue revitalising the network from September 2022 to February 2023. The new alumni co-presidents are Ludovica Ceccarelli, Irene di Padua, Eric Dresin, Stéphanie Oberheidt, Valentin Stancu and Anna Venturini.   
The insider's tour of the EP with IEE alumnus Bogdan Deleanu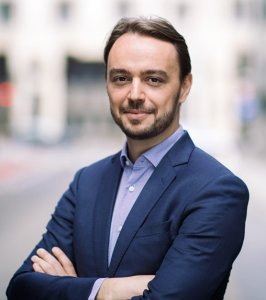 A second series of alumni events comes as an initiative of IEE graduate Bogdan Deleanu, Head of Cabinet of the Office of MEP Dragoș Pîslaru (Chair of the EMPL Committee). Through the "Fridays at the EU Parliament: The Insider's Tour", a series of guided tours of the European Parliament by Mr. Deleanu himself, he is allowing some of our students to get a closer look into decision-making in the EU.
The visits started in October and will continue through the first semester.  
Mentoring sessions keep bringing IEE alumni and students together 
Last November 10, 2022, eleven IEE alumni joined some 30 current students during the first mentoring session of the academic year, a tradition that brings together these two pillars of IEE life.  
After a round of inspirational introductions, students and alumni broke into different roundtables to discuss about career opportunities and professional perspectives after an education in EU Studies. The session ended with a drink, where all could exchange more informally. 
 The Institute thanks Milena Albu, Matteo Candelari, Giulia Dino Giacomelli, Eric Dresin, Mendel Goldstein, Lenard Koschwitz, Marcella Martorana, Emmanuel Matz, Stéphanie Oberheidt, Valentin Stancu and Cristina Tavio for their participation as mentors.  
We look forward to other IEE alumni initiatives to come!  
If you wish to contribute to the activities of the IEE Alumni network, send us an e-mail to alumniee@ulb.be