On May 22-23, the Institut d'études européennes at the ULB hosts the first Biennial Conference "EU in European Affairs – EUEA."
At a moment when the European Commission pushes legislation to advance the agenda of the 20 key principles of the European Pillar of Social Rights, and a few months before the European Solidarity Corps becomes a reality, the Institut d'études européennes at ULB, in coordination with its homologue Institute for European Studies at the VUB, organises the First Biennial Conference "EU in European Affairs – EUEA."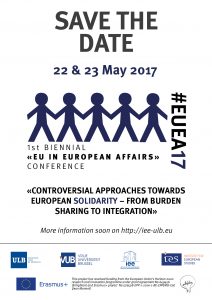 The two-day event "Controversial Approaches towards European Solidarity – From Burden Sharing To Integration" represents an opportunity for an academic and policy oriented discussion on migration, asylum, security, jobs, education, health, housing, inclusion, as well as on financial sustainability, tax regulation and economic governance, all through the lens of solidarity.
The concept of solidarity itself as a European value, defined by EC president Jean-Claude Juncker as "the glue that keeps our Union together," will go under scientific scrutiny during the conference.
The bibliography is scarce on one of the central values underpinning European integration since its origins 60 years ago. The most pressing questions around solidarity will be addressed by our speakers. Among others, is solidarity a solution or a challenge to the current tensions in EU politics? What forms of solidarity have passed the test of recent European crises? What forms does it take in EU's internal and external policies?
Highlights include an opening Key Note by ULB's Doctor Honoris Causa Vivien Schmidt on the subject "Varieties of Welfare States over time and the impact of the Eurozone Crisis with a specific focus on what it means for European Solidarity." Herman Mark Schwarz, from the University of Virginia, will be the key note's discussant, and a special participation of Marianne Thyssen – European Commissioner for Employment, Social Affairs, Skills and Labour Mobility- is expected (TBC).
For the closing panel on the future for transatlantic solidarity, the authorities from both the IEE and the IES will propose scenarios the address subjects from the military to diplomacy.
Interdisciplinary participation
The conference is co-financed by the Jean Monnet Project at the Institute for European Studies and H2020 project 'European Legitimacy in Governing through Hard Times: the role of European Networks' (ENLIGHTEN) and it includes representatives from the following EC financed projects:
H2020 RIA COFFERS Project (Combating Fiscal Fraud and Empowering Regulators) – coffers.eu
H2020 ERC CORPLINK Advanced Grant (Corporate Arbitrage and CPL Maps: Hidden Structures of Controls in the Global Economy) –
H2020 RIA ENLIGHTEN Project (European Legitimacy in Governing through Hard Times: the role of European Networks) – enlightenproject.eu
H2020 MSCA GEM-STONES European Joint Doctorate (Globalisation, Europe & Multilateralism – Sophistication of the Transnational Order, Networks, and European Strategies) – gem-stones.eu
H2020 RIA RE-InVEST Project (Rebuilding an inclusive, value based Europe of solidarity and trust through social investments) – re-invest.eu
H2020 EL-CSID Project (European Leadership in Cultural, Science and Innovation Diplomacy) – el-csid.eu