The bell rings. Seven minutes have past and the Kant room feels alive. Current IEE-ULB students switch places to meet the alumni hosting the next table. "How did you get to where you are today?," they ask. "Is this where you thought you would end up?"
It's the first meeting of the "Mentoring Thursdays" hosted by the Institute for European Studies of the Université libre de Bruxelles, and professor and expert career coach Monique Chalude, steers the audience as they share hopes and experiences, fears and lessons learned.
As flipcharts get filled with keywords and ideas, memories also flow. "I met at the Institute students who became friends, mentors… here I met my wife," says Kader Chérigui, a graduate in the field of European economy from the class of 1994, who is now the president of the IEE-ULB's alumni association.
For Martina Barbero, a graduate from the master in European Studies in 2011, mentoring is a way of sharing experiences that can open doors. "I ended up doing a job I didn't even know existed when I was studying at the IEE. So I really wanted to let the students know they have a wide range of opportunities" beyond their imagination.
Career paths that connect with European integration
What started with an intuition of the extraordinary trajectories of our alumni became a study into the professional paths and geographic mobility of IEE-ULB alumni, conducted by Professor Ramona Coman, Director of the Institute and herself an alumna from the class of 2003.
We were happy to discover most of them managed to have a career in the European institutions or in other professional sectors related to European integration Ramona Coman, Director IEE-ULB
With the help of students Jean Duclos, Julien Bourgeois and Cristina Dobrisan, Professor Coman dug into the professional mobility and trajectories of 1.562 graduates of the IEE-ULB from 2003 to 2015.
They discovered the majority of the Institute's graduates come from 24 of the 28 Member States, although, including Belgium, 42 countries are represented in the IEE-ULB's alumni network.
Internships and employability
Some of the study's highlights point out to a short period between the internship and the insertion into the professional world. IEE-ULB graduates spent between 5 and 10 months as interns before landing their first job opportunity.
A deeper analysis into the class of 2015-2016 shows that 53% were on payroll within a year.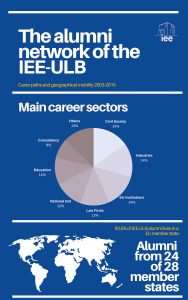 What's next?
As the room empties, mentees and mentors continue their conversation on the halls. As they drink and eat together, as they discuss and dream, bonds begin to form. Until the next "Mentoring Thursday".
*The study and the mentoring sessions are possible thanks to the support of the "Fonds encouragement à l'enseignement en études européennes 2018-2019"