Jean Monnet Centre of Excellence
---
Introduction of systematic external experts' interventions. To update and complement the current curricula, the Jean Monnet Centre of Excellence at the Institut d'études européennes will focus its energies on enhancing the inter-sectoral dimension – by way of non-academic contributors – and the international dimension – by way of non European academic contributors 
---
Pilot module « Europe of rights, norms and values »
(Specialized Master in Interdisciplinary EU Studies)
Each of the 4 courses of the elective module "Europe of rights, norms and values" will identify three 2-hour guest speakers within the scope of the course (see below), who will either strengthen the courses' inter-sectoral dimension by presenting their own professional experiences in the field, or by bringing in the international dimension as guest speakers from a 3rd country.
---
Thematic area: Europe's area of freedom, security and justice, challenges and outcomes
Main subjects: Judicial Cooperation, Police Cooperation, Citizen Rights & Security
Lead Academics: Anne Weyembergh and Ramona Coman
---
2016-2017
Yves Leterme, President International IDEA
"State of Democracy: Challenges and Opportunities"
Monday, November 21st, 2016 – 14:00 to 16:00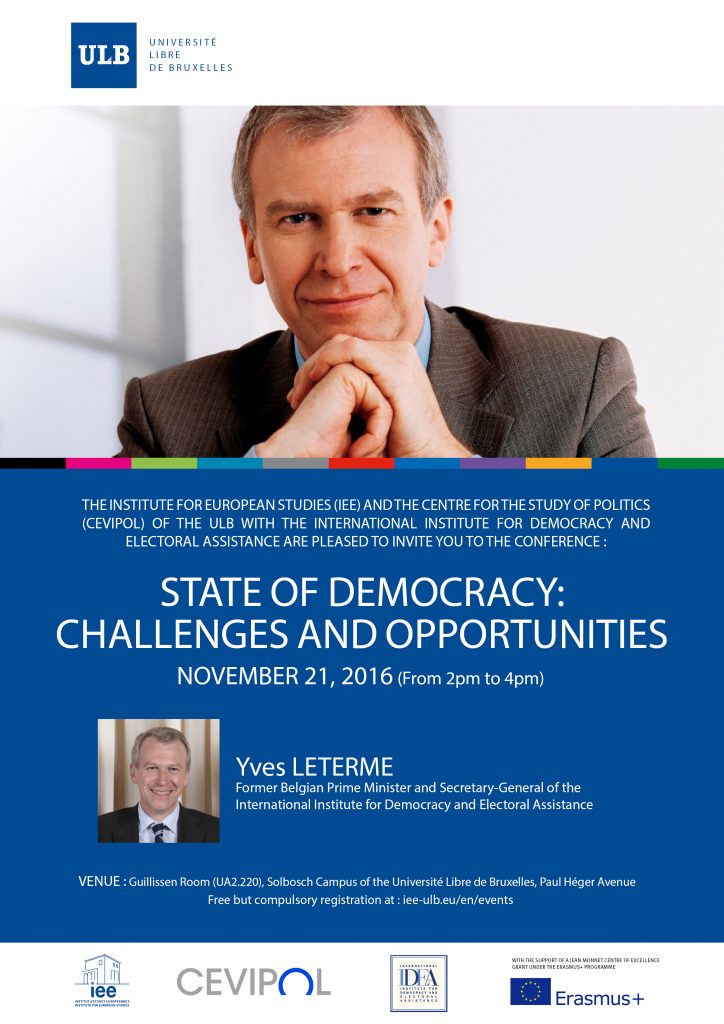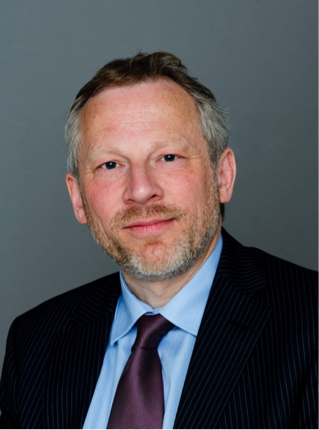 2016-2017
Agnes Tuka (University of Peck) | "Hungary and Schengen"|November 17th 2016.
Roland Genson, Director, General Secretariat of the EU
Title of his talk:
"Main challenges of the AFSJ, including Brexit"
Thursday, Dec 1st, 11.00 -13.00
2017-2018
Ruairi Topping, Frontex Liaison Officer in Brussels | "Frontex activities: New mandate and Challenges" | December 6th, 2017 -18.00 to 19.30)
Nicholas Franssen, Counsellor at the Netherlands Ministry of Justice and Security. In charge of OLAF, Eurojust and EPPO. Chairman working parties COPEN and GAF under NL EU Presidency 2016 |"The European Public Prosecutor Office : an Introduction" | 12 Nov. 2017 – 12:00 to 14:00)
2018-2019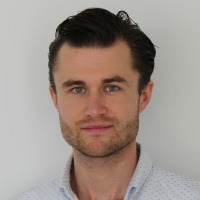 Auke Willems, Lecturer at the University of Liverpool and Teaching Fellow at LSE
Title of his talk:
"Various approaches to mutual trust. The case of cooperation in criminal matters"
November 8th, 2018 – 10:00 to 13:00
---
Thematic Area: Fundamental rights: law aspects and normative stakes
Main subjects: EU institutions and fundamental rights. EU/Council of Europe fundamental rights dialogue. A fundamental rights case study: LGBTQI
Lead academic: Emmanuelle Bribosia
---
2016-2017
Moritz Baumgaertel, political scientist and sociologist. Professor at the University of Tilburg | "The European Courts and the rights of vulnerable migrants." | March 16, 2017.
2017-2018
François Desmet, Director of Myria, Centre fédéral Migrations, Belgium| March 1st, 2018
François Crépeau, Prof. at MacGill and former Special Rapporteur on the human rights of migrants
"La gouvernance globale des migrations. Le pacte mondial et ses suites"
March 20th, 2018 14.00-16.00
Full Professor and holds the Hans and Tamar Oppenheimer Chair in Public International Law, at the Faculty of Law of McGill University. He has been appointed United Nations Special Rapporteur on the Human Rights of Migrants in 2011.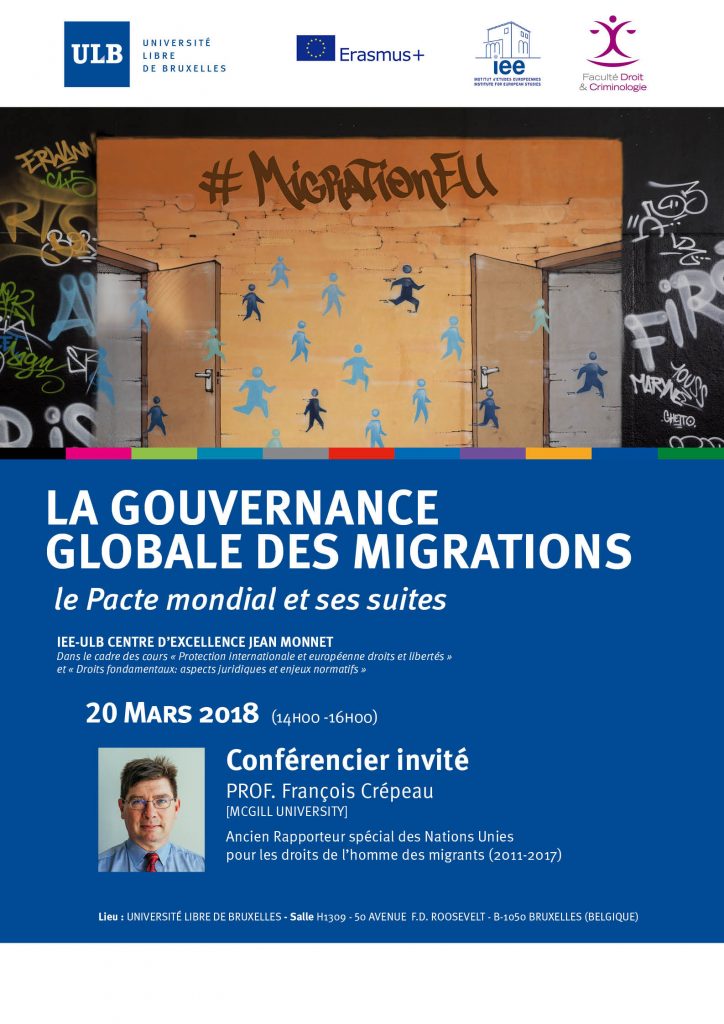 2018-2019
Two invited guests participated in the course "Introduction to EU law" by Irene Wiekzorek and Chloé Brière.
Scott Crosby
Lawyer in Brussels, Member of the Scottish Bar and the French Bar and expert in European Law.
"Brexit from a Fundamental Rights Perspective"
December 11th, 2018.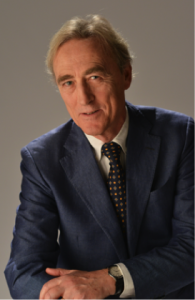 Niovi Vavoula
Lecturer in Migration and Security at the School of Law of Queen Mary, University of London
"The EU Response to the so-called Refugee Crisis"
December 12th, 2018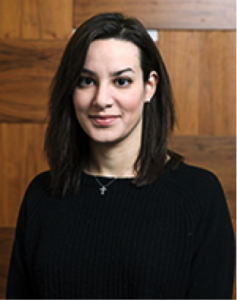 ---
Thematic Area: Politics, Religion and Values in the EU
Main subjects: European de-radicalisation policies. The religious fact in migration policies. Religion and health science in the EU.
Lead academic: François Foret
---
2016-2017
Rogers Brubaker, Professor of Sociology and UCLA Foundation Chair at the University of California in Los Angeles
"The nationalist-populist moment in Europe"
March 6th, 2017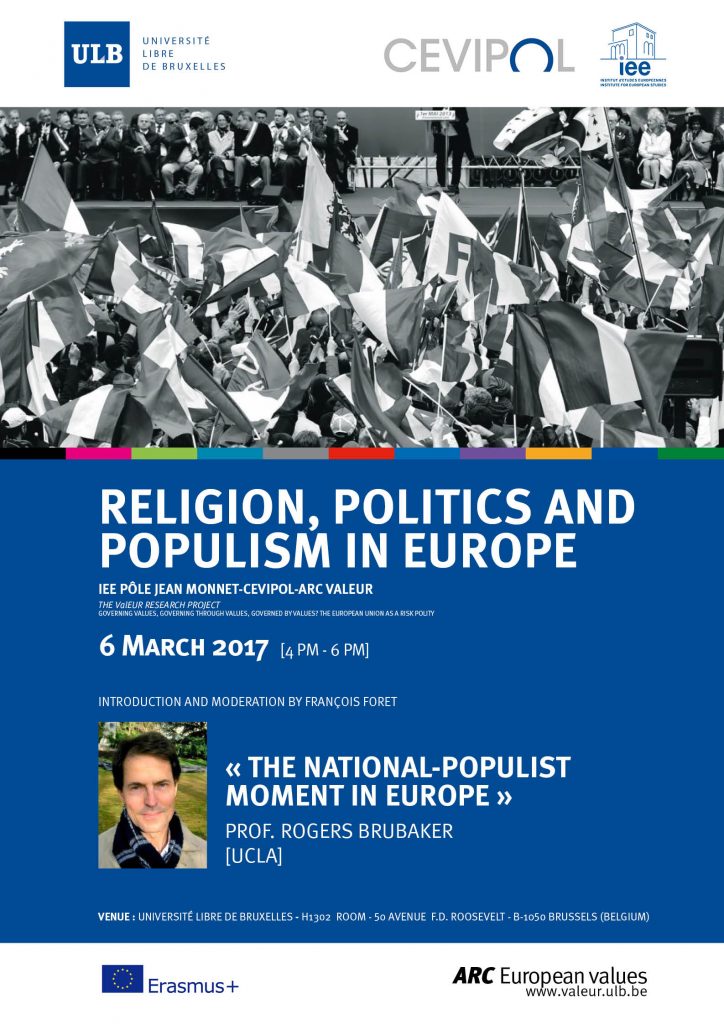 ---
Olivier Roy, Professor at the European University Institute
"Religion, populisme, radicalisation"
March 7th, 2017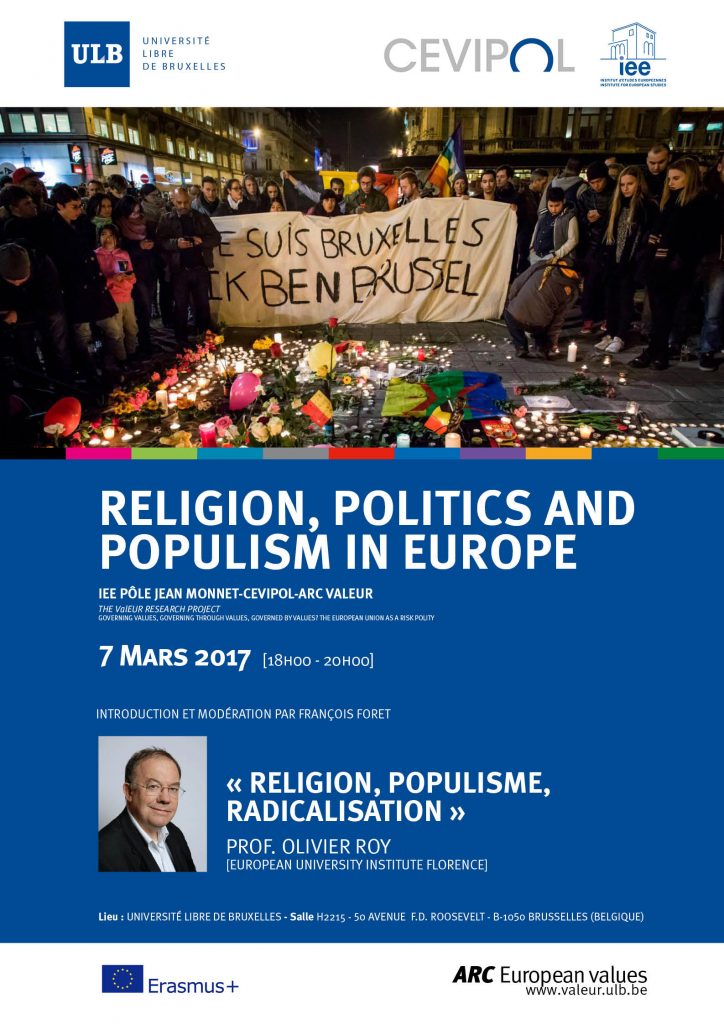 ---
Development of the EU Thematic conference cycle
Executive Master in EU studies (MEUS)
In line with the Jean Monnet objectives to propose innovative teaching solutions, establish partnerships with external stakeholders and increase visibility of EU studies outside the organization, the intervention of representatives from different EU agencies and other European practitioners intervene in four course sessions during each of the three years of the grant agreement.
---
In the context of the course "Media and Communication"
Course leader: Concha Lozano
2016-2017
Katie Owens, Communication Advisor for the EPP group in the Committee of the regions February 11th, 2017
Juan Carlos González Head of division Press and Media at the European Court of Justice February 11th, 2017
Delia Vlase,Spokesperson of the President of the EP, March 25th, 2017
2017-2018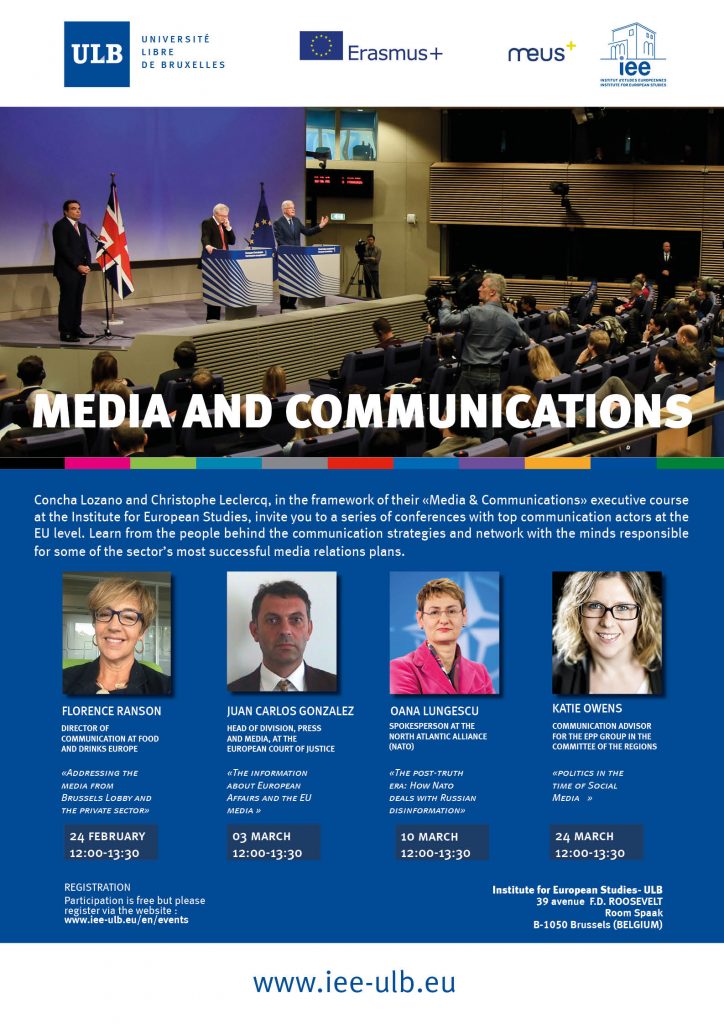 Florence Ranson,  Director of Communication at Food and Drinks | "Addressing the Media from the Brussels Lobby and the Private Sector" | February 24th, 2018
Pedro López de Pablo, head of Communication Unit EPP group at the EP. | March 3rd, 2018
Oana Lungescu, Spokesperson at Nato | "The 'Post Truth' Era: How NATO Deals with Russian Disinformation" | March 10th, 2018
Katie Owens, Communication Advisor for the EPP group in the Committee of the regions | "Politics in the Era of Social Media" |March 24th, 2018
Juan Carlos González,Head of division Press and Media at the European Court of Justice | "The Information about European Affairs and the EU Media"
March 24th, 2018
In the context of the course "Career Development around EU Affairs"
Course leader: Monique Chalude
Horst Schade, Director of general services at the Parliamentary Assembly of the Council of Europe (PACE) |"The international legal and political order in Europe: what's in it for me?" | February 19th, 2018.
---
Career Fair in the Professionalization module
To go further in the improvement of this module and the integration of the students in the labour market, the IEE led a reflection on how to mobilise its inner resources and elaborated a Career Fair in partnership with the alumni network, "AlumniEE". The former IEE students represent a precious pool of expertise on which the Institute did not really build in the past years and that remains therefore largely unexploited. The launch of the professionalization module coincides in the institution with the redynamisation of the alumni community and many members have already been mobilized and expressed their enthusiasm in view of potential new initiatives in favor of the students.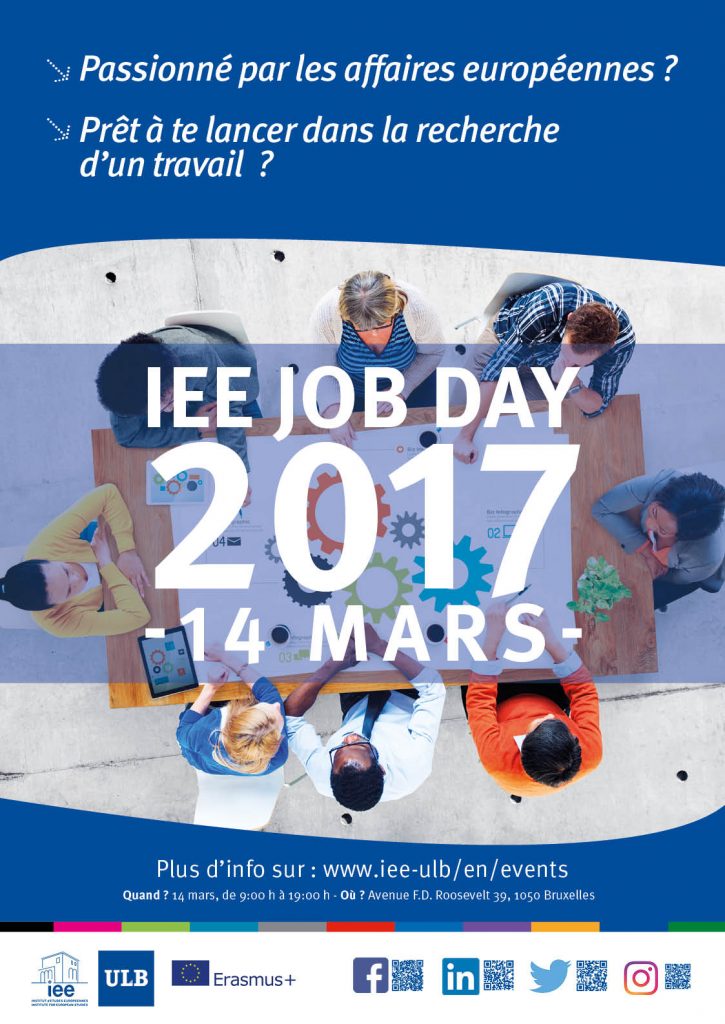 The IEE-ULB organized on February 14th, 2017 the second annual Job Day, focusing on professional insertion of its graduates. Like on the first edition, numerous interventions took place, including conferences and workshops by practitioners representing the different professional opportunities around EU affairs (civil service, NGO, consultancy, journalism…). A CV and cover letter workshop as well as recruiting opportunities were available, to allow for current and former students to network.
The first edition of the "Job Day" took place on May 9th, 2016 with the participation of:
Marina Antonova, Assistante Parlementaire, Parlement européen
Zoé Buyle-Bodin, Chargée de mission, Bureau de Représentation Régionale Normandie – France
Luc Chalsege, Directeur Senior, Deloitte
Audrey Frith, Directrice, Lifelong Learning Platform
Mendel Goldstein, Président des Alumni IEE et ancien membre de la Commission Européenne – Service Européen d'Action Extérieure
Katrien Hanquet, Référendaire, Tribunal de l'Union Européenne
Christophe Leclercq, Fondateur du média européen EurActiv et de la Fondation EurActiv
John Nieuwenhuys, Doctorant en Histoire et Assistant académique à l'IEE, Professeur dans le programme MEUS
Yayi Samake, Life & Language Coach, Umanda Coaching
Anne Weyembergh and Ramona Coman, Présidente et Directrice de l'IEE, coordinatrices académiques du programme MEUS
Here are the topics covered in 2017:
«Travailler dans les institutions européennes», Stefana Di Battista, Parlementarium. Parlement Européen (AlumnIEE)
«Travailler dans l'EU advocacy et le monde des ONGs», Joost Mulder, ancien chargé des relations publiques. Finance Watch
«Travailler dans un cabinet de conseil», Benoît Vandresse Senior Manager Public Sector Policy Deloitte Consulting
«Les opportunités de carrière au sein des Institutions UE et la procédure de sélection», Koen Hendrix, European Personnel Selection Office (EPSO)
«Travailler comme avocat en droit européen», Jessica Bracker (AlumnIEE)
«Travailler pour une région auprès de l'UE», Magali Pages, Région Nouvelle-Aquitaine – France
Coaching: "10 trucs pour s'assurer de ne jamais trouver un job (ou les 10 pièges du jeune diplômé sur le marché du travail)", Yayi Samake, Coach professionnel. Umanda Coaching
«Faire de la recherche en études européennes», John Nieuwenhuys, Membre du Corps Scientifique IEE-ULB
«Travailler pour un media européen et dans le secteur privé», Christophe Leclercq. EurActiv
In 2018, the Institute turned things around and opted to restructure the job fair into a series of monthly meetings called the "Mentoring Thursdays". Hosted by the IEE-ULB, the sessions allow students and graduates from different generations and programs to exchange ideas and experiences, network, give and get support on professional projects.
"The European Commission support for the production of this publication does not constitute an endorsement of the contents which reflects the views only of the authors, and the Commission cannot be held responsi­ble for any use which may be made of the information contained therein."