About the speaker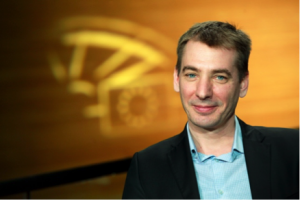 Benedek Jávor: Hungarian biologist, environmentalist and politician, a former leading Hungarian green party LMP, and current leading member of the Dialogue for Hungary (PM) party.He graduated in biology at the Eötvös Loránd University in 1997 (MSc), and in 2006 he received his Ph.D. at the same university. He has been assistant professor at the Department of Environmental Law at the Pázmány Péter Catholic University. In 2000 he was a founding member of the environmental NGO Védegylet (Protect the Future!). In 2009 he was a founding member and one of the spokespeople of LMP. In the parliamentary election in 2010 he won a seat in the National Assembly. He served as Chairman of the Committee on Sustainable Development between 2010 and 2013. He was appointed leader of the greens parliamentary group on 29 January 2012. He was elected Member of the European Parliament (MEP) in the 2014 European Parliament election and joined The Greens–European Free Alliance. In the 2014-2019 mandate he was first vice-chair of the Committee for Environment, Public Health and Food Safety, coordinator of the Greens/EFA group in the Committee of Industry, Research and Energy and substitute member in the Budgetary Control Committee. He worked on several climate, energy and environment-related files, as well as on media-freedom, rule of law, anti-corruption and transparency issues."
Practical information
Date:  October 24
Time: 9:00-12:00
Where: Institute for European Studies, room Geremek
This lecture is reserved for students of Professor Coman's course on the Rule of Law. Other events of the series will take place during the evenings and will be open to the public.
The Jean Monnet Module
The Institute for European Studies of the Université libre de Bruxelles coordinates since September 2018 a Jean Monnet Module dealing with the rule of law and mutual trust in global and European governance. Professor Ramona Coman, President of the IEE-ULB  is the project's coordinator.
In recent years the salience of these topics has considerably increased not only within the EU but also in other regions/regional organizations. The aim of this Module is to create a platform of academic and expert discussion that will shade light on current debates about the rule of law in general and the independence of the judiciary in EU member states and beyond. The Module seeks to bring together scholars and experts with academic backgrounds in different disciplines and plural views on the topic.
Read the full programme of the Module here.